CONSTRUCTION SITE MONITORING



Ultra High Definition shots taken automatically at regular intervals and available on a personalized and secured user interface. Live construction site monitoring is an indispensable tool for monitoring the daily progress of your construction sites in real time and communicate freely.
HOW DOES CONSTRUCTION SITE MONITORING WORK
An Ultra HD camera, integrated into a waterproof and highly resistant "TLGO Box", takes pictures at regular intervals and instantly sends them to our secure servers . These shots are then instantly accessible on a secure and personalized user interface.
You can look at them anytime on any device, smartphone, tablet or computer. Our user interface offers many features such as allowing you to zoom in the image, quickly look for a moment or a snapshot, view daily or weekly timelapse, download or share photos, and create visitor or administrator access. 
WHY MONITOR YOUR WORK SITE ?
A watch tool :
It allows you to remotely follow the real time progression of your construction site or project. The ultra high definition of our photos allows powerful zooms to capture the important details.
A supervision tool :
It allows you to follow in real time that the obvious safety rules are respected, wearing a safety helmet, no unsecured ladder, etc. And afterwards make sure that a precise step has taken on the construction site.
A memory tool :
The live construction site monitoring allows you to quickly find any important step of a construction site. For example: if you want to find the exact day when the site was stopped because of snow. Thanks to our timeline you will find it in a matter of seconds.
A communication tool :
As an administrator you can at any time look for and download a dazzling shot to insert it onto any form of communication . 
A sharing tool :
We offer the possibility of integrating real time images on your site, for example on the page or blog dedicated to the construction site. You can choose to upload either a snapshot per day, one every hour, or all shots. 
A proof of transparency:
Provide your customers and / or partners with the live monitoring interface, in full or restrained version, proves to them that you have nothing to hide.
OUR CONSTRUCTION SITE MONITORING OFFER
Advice and expertise : We guide you in choosing the right number of boxes and the right locations. We can handle the positioning and if necessary, manage the authorization requests.
Installation and maintenances : We take care of everything. Fixing our equipment on railing, wall or ceiling, acroterium, weighted pole, telescopic pole, pole on concrete block, we will always propose the most appropriate system, the most secured and the least expensive solution. We ensure the installation of our material in compliance with every safety standards. Our competent technicians are qualified for high up works and always carry the appropriate PPE (Personal Protection Equipment).
In case of any malfunctions, we immidiatly receive an alert and a real time diagnostic, and can quickly organize the appropriate response. Rapid interventions in less than 48 hours, which can be reduced to less time during critical phases, for example during a major step of the construction site.
Power source : In the interest of pragmatic and responsible ecology, we offer two solutions for the power supply: a solar panel and its battery for a 100% independent solution, or coupling on a 220V outlet, (measured consumption 5 € / year) for an affordable and ecological* solution.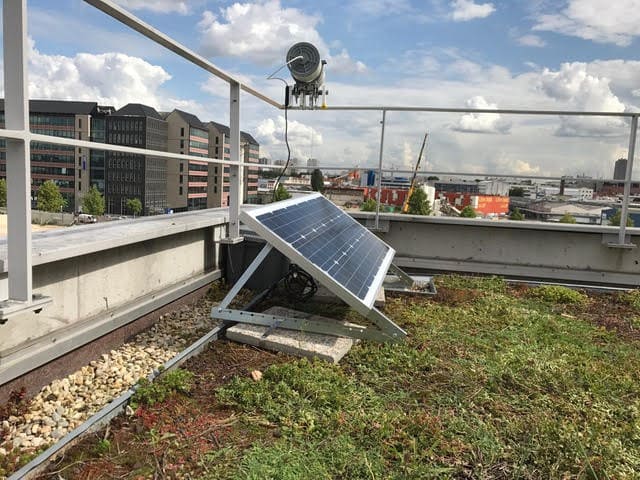 INNOVATION DEDICATED TO CONSTRUCTION SITE MONITORING
Storage : Storing the images on the camera's SD card would present a huge disadvantage, the risk of loss or theft. This is why we have made every effort to ensure the transmission of our images on a secure server thanks to a reliable 4G connection. Local storage is only used in case of 4G or wifi connection failure. As soon as it is reestablished, the images are sent to our secure server, which sends them back instantly to the user monitoring interface.
Power autonomy : The TimeLapse GO solution can be sole independent thanks to a solar panel connected to a battery. As climate variations have been particularly unpredictable in recent years, our solar installations are intentionally overestimated in order to withstand very bad weather, as we experienced in France in the first quarter of 2018.
In the interests of preserving the ecology and the economy, our equipment can also be connected to a 220 volt power source, which reduces costs and proves to be a lot more environmental friendly compared to the high carbon footprint of the solar panels associated with a battery.
A simple and intuitive website, personalized and secured to follow the progress of your construction sites in real time. Each shot is instantly saved and accessible on any device, smartphone, tablet or computer. You can log in as an administrator, download freely any photos and create in just a few clicks another administrator account or a visitor account.
PRACTICAL FEATURES TO SAVE TIME
The timeline : 
An automatic time lapse generated from a snapshot per day from the beginning of the project, in order to summarize and quickly consult the history of the construction site. An indispensable tool to promptly find the date of any event or any significant step of the project.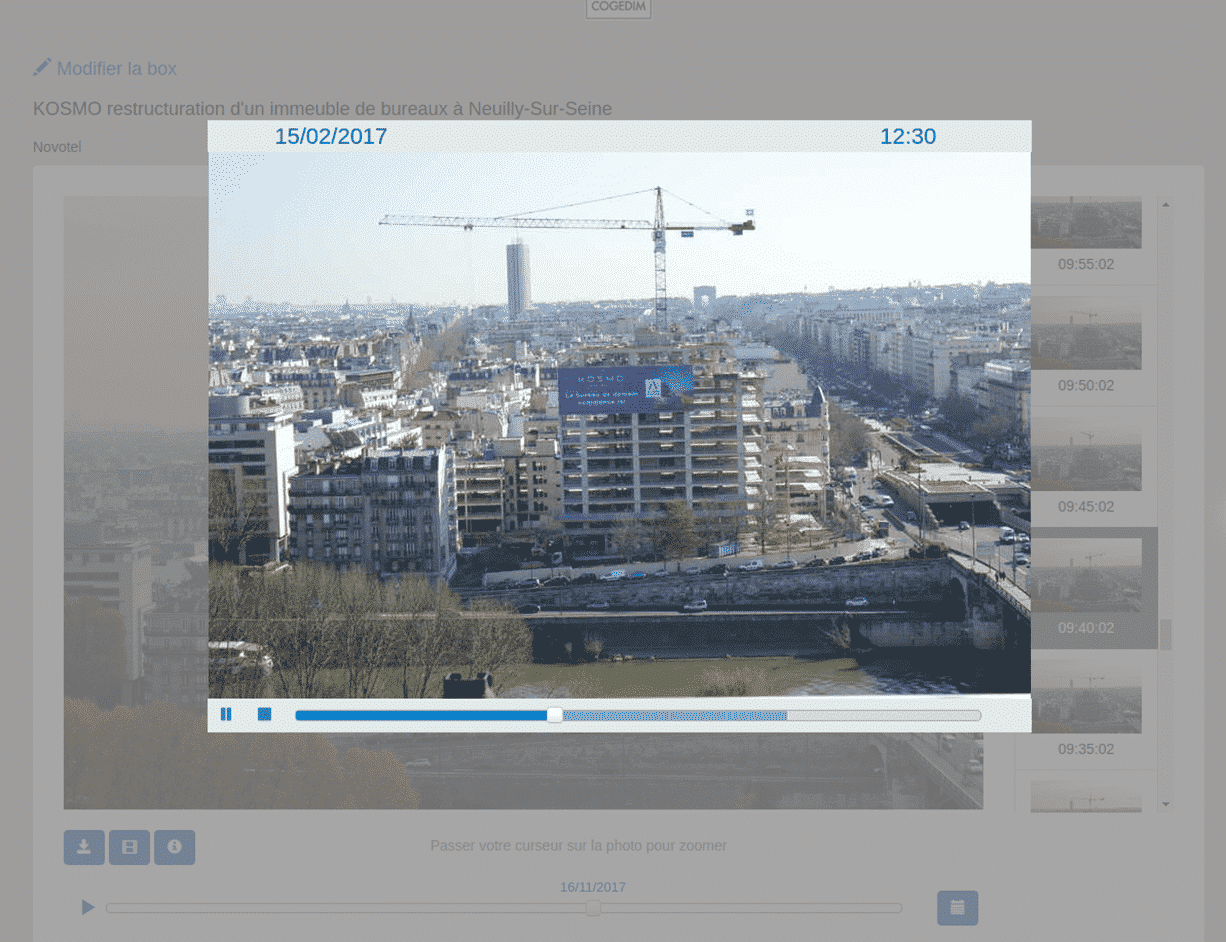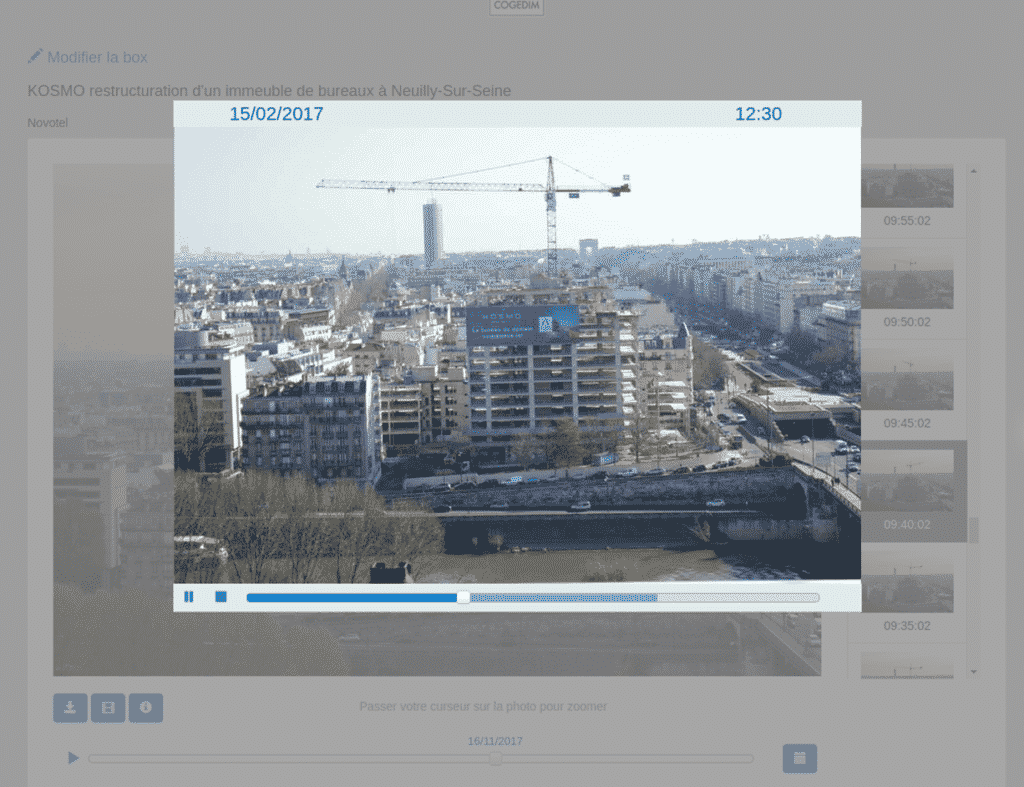 Download a picture :
Only available as an administrator in order to maintain the control over of your photos.
Press the download button and instantly recover the photo in 24 million pixels.
Several different visitor accounts :
When you create a new visitor, they may be allowed to view all your sites, or only the ones you select.
You can give access to all shots, one per hour, or only one per day. Hence, you perfectly control your communication.
Zoom :
Select any photo, you can zoom in up to x 8 !!
The daily or weekly Time Lapse :
An automatic image assembly to consult on the interface to not miss anything of the recent activity on the site.
Multiscreen :
Find all the latest snapshots of your timelapse boxes on one page. Convenient to save time and always keep an eye on your projects. Easy to integrate on a large screen, to broadcast for example in a waiting room or a lobby.
Photos on your site :
In iframe or push, we offer the best solutions to integratedaily images automatically on your site.