Time Lapse movies are our passion
and the fondation of our business
Short, powerful videos to communicate, promote,
diffuse or even just keep track
Our expertise : select, enhance and assemble thousands of shots taken at regular intervals to make breathtaking time lapse movies. Our software adjusts brightness, flickering, steadies the images and the talent and skills of our motion designers do the rest!
What is a Time Lapse movie ?
Both the cinema and video making are based on the phenomenon of retinal persistence. When we watch a couple of images scroll, they remain engraved in our retina for a few moments, so when we scroll 24 frames per second we get a feeling of consistency. Therefore a camera takes 24 photos per second, to render a fluent film at real speed. If you take more than 24 frames per second, 58 for example, and then broadcast them at a rate of 24 frames per second, you will obtnain what we call a slow motion, a slow motion movie twice as slow but still perfectly fluent.
The timelapse does the exact opposite. We can take a shot per second, per minute or even per hour, if we put them together at a rate of 24 frames per second, we get an accelerated effect, more or less impacted by the spacing of the shots.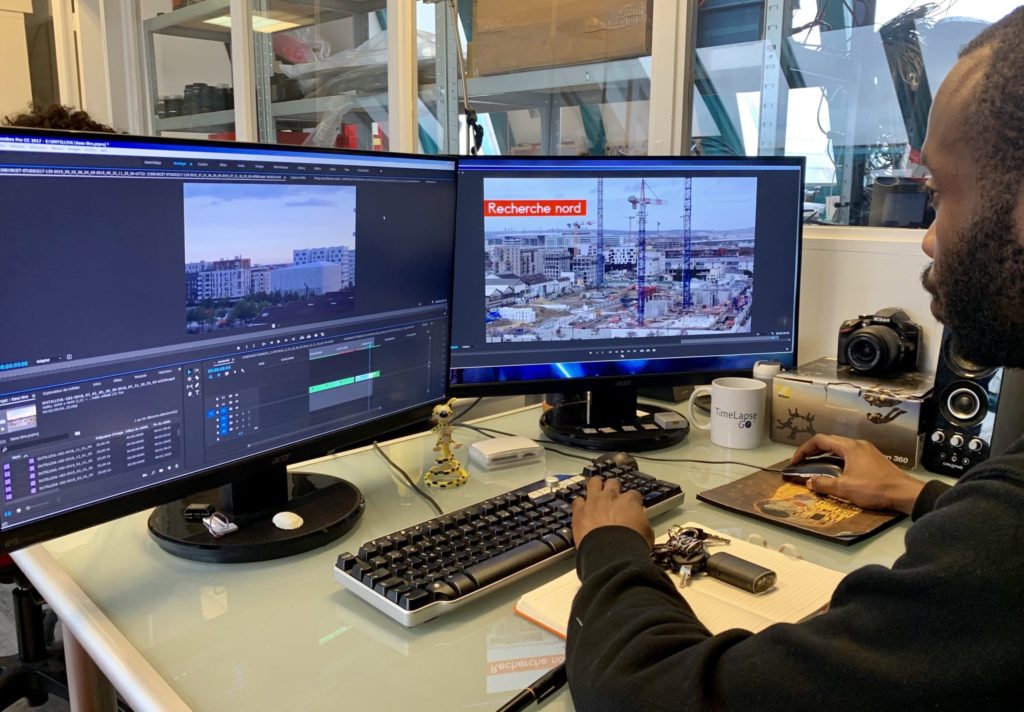 How to make a TimeLapse Movie ?
To do a TimeLapse, we need still images taken at regular intervals. Whether this is achieved automatically or by programmation, it is called chronophotography. TimeLapse Go's technology allows you to remotely program and modify the frequency and time window.
Our computers are equipped with powerful processors and software to analyze tens of thousands of Ultra High Definition images. Our video editors are real specialists and most of all, passionate about Time Lapse.
Here follows summary of the process:
Before starting to assemble the film, we will have discussion with the customer, to define the important phases to highlight. We can offer you films ranging from 15 seconds in traditional format to several minutes depending on your final needs. Many formats are also available (Facebook, Linkedin, Instagram)
Image selection 
 Writing the synopsis (Writing the Storyline)
Colorimetry adjustments
Stabilization
Creation of camera movements, zoom in and zoom out
Titling and dressing
Musical setting
Sending the film for validation
Corrections according to your requests. Several back and forth possible.
Final film delivery
Innovation to benefit the timelapse:
Our R&D department is constantly working to optimize and ease the making of breathtaking TimeLapse at lowest cost.
Ultra High Definition shots:

A dazzling time lapse is first of all a series of stunning shots. This is why we have developed a privileged partnership with Nikon France, the exclusive supplier for our cameras. We use high quality and reliable 24.2 megapixel D3500 SLR cameras. As well as a whole range of DX Nikkor lenses from 10mm to 110mm. On request we can also offer full format Nikon SLRs and take Raw pictures.
Selection of images:
This is the key step to a successful Timelapse. This action is always done by our editors. They are assisted by special software which selects only the exploitable shots, but the final choice remains that of our specialists, once again innovation is here to benefit our talented team of editors.
Audiovisual editing :
Our editors use powerful machines and software to simultaneously work, correct, calibrate, stabilize and assemble thousands of images even in 4K.